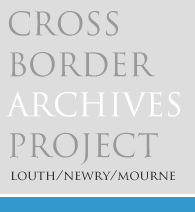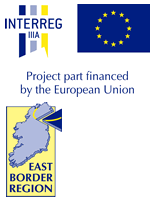 Building Newry & Mourne
House at Corgary, Co. Down for J. Reid
Displayed in elevation, plan and sectional views, this architectural drawing of a single-storey house for J. Reid, on the townland of Corgary, County Down, blends features of modern bungalow design with aspects of vernacular dwellings of an earlier age.
Its colourful design is based around a simple square shape, with two bedrooms, a kitchen, sitting room, larder, hallway and porch. Reflecting contemporary architectural thought, the dwelling is fitted with a semi-glazed front door, Bangor blue slates and windows with steel sashes in wooden frames. Tiles have been laid in the porch, kitchen, larder and fireplaces. Three cupboards have been fitted and both bedrooms feature tongue and groove timber floorboards. Space is allocated for a pram at the end of the hallway.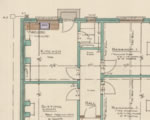 There is no bathroom but an outside cubicle contains separate units for a chemical closet and a fuel store. The overall conception, cost, execution and professional expertise of this project, undertaken in the dull post-war economy, is indicative of the social class and financial independence of its progenitor.
Work was completed on this drawing during August 1948 by Gerald Wilson Reside.
---
Next page - Repairs to Shop Front » « Previous page - Dean Henry Biddall Swanzy
---
This project is part financed by the European Union through the Interreg IIIA Programme managed for the Special EU Programmes Body by the East Border Region Interreg IIIA Partnership.

---