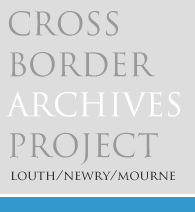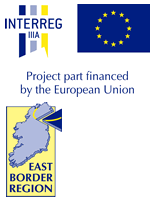 Welcome to the Cross Border Archive Project
The Cross Border Archive Project is a joint initiative between Newry & Mourne Museum and Louth County Archives Service. It began in early 2007 and was completed in June 2008. This Project uses a linked website to make accessible a vast array of archives and information on the historical development of the Newry & Mourne – Louth region.
The archives have been drawn from the collections of both Services and include architectural, engineering, legal and photographic material, as well as others. The website will be of considerable interest to professionals, tourists, schools, researchers, and the general public. However, this project is much more than a mere listing of archival records. Its purpose is to enable everyone to interact with intriguing historical material on a variety of fronts. In doing so, it will help to promote the vital role that archives can play in promoting social inclusion, cross-community dialogue, peace building and reconciliation.
The cross-border co-operation and understanding lies at the heart of this project. This is reflected not only in the fact that the two Services are located in Dundalk and Newry, but also through the very nature of the archival material itself, which openly and impartially reflects the historical changes that have impacted on this part of the Border, pre and post Partition.
The archives relate the day to day activities of people who lived and worked in this region. They show not only how the region developed, but how this is reflected in its shared history.
The website features several online exhibitions and educational activities, in addition to the online catalogues of both Services.
The Project was funded by the EU through the Interreg IIIA Programme which is managed for the Special EU Programmes Body by the East Border Region Interreg IIIA Partnership.
---
This project is part financed by the European Union through the Interreg IIIA Programme managed for the Special EU Programmes Body by the East Border Region Interreg IIIA Partnership.

---