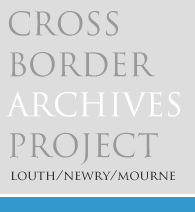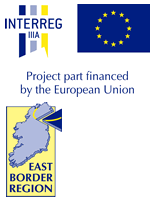 About the Cross Border Archive Project
Newry & Mourne Museum | Louth County Archives Service
Newry & Mourne Museum
Sometimes we can't see something, until we see it. Such was the case with Bagenal's Castle, now home to Newry & Mourne Museum. For hundred of years this stunning 16th century castle stood unseen in the very centre of Newry, hidden beneath layers of later architectural accretions. Now being restored to its former splendour, the castle houses Newry and Mourne Museum, opened in 1986. The aim of the museum is to provide a dynamic and inclusive recreational and educational resource that reflects the rich cultural heritage of the local area.
Our Collections
The museum's diverse collections currently include material relating to:
prehistoric history
Newry's Cistercian foundations
Ulster's Gaelic Order and relationship with the English Crown
the building of a merchant town and the first summit level canal in the British Isles
the working life and folk traditions of rural and mountain areas
fishing, trade and migration by sea
renowned local personalities and businesses
folklore, storytelling and music
modern experiences of a Border area
All these aspects of local heritage are explored at through a varied programme of exhibitions, educational events and activities.
Louth County Archives Service
Louth County Archives Service was founded in 2000 as a result of the passing of the Local Government Act, 1994. The role of the Service, as expressed in our Mission Statement, is to undertake:
"The identification, preservation and availability of the valuable public and private archives of County Louth".
The Service provides a repository for the public and private archives of County Louth. This means it holds and seeks the acquisition of archives of Louth Local Authorities and their predecessor bodies. As time and resources permit, private collections, such as those of literary figures and businesses are also acquired.
Our Archives
Archives are primary source records of long-term value. They include:
paper documents, files, ledgers, bound volumes,
maps, plans, drawings,
photographs, negatives, film and sound recordings,
magnetic tapes or discs, microfilm and other micrographics or machine-readable records.
Archives contain evidence of establishment, policies, structure, and actions. The surviving archives are of a remarkably high quality, such as those of Ardee Town Commissioners dating back to 1677.
Contact Louth County Archives Service
---
This project is part financed by the European Union through the Interreg IIIA Programme managed for the Special EU Programmes Body by the East Border Region Interreg IIIA Partnership.

---