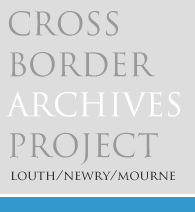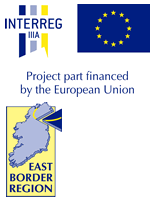 Incumbered Estates Court
Family Obligations
Many landed families of this period also faced considerable financial obligations through payment of settlements and charges out of estate income to a spouse or close member of kin. This common practice is illustrated in the Reside Collection through the legal activities of Colonel Francis Rawdon Chesney, whose estate included the lands of Ballyveagh More, Parish of Kilkeel, in County Down.
Thus by marriage settlement deed of March 1848, Chesney is contracted to pay his intended spouse, Louisa Fletcher, an annual payment (or annuity) of £80, plus a sum equal to £1,562.50 flowing from a trust fund investment. Further commitments on his estate include annuity payments of £60 to his sister Jane Hayden, and £40 to his sister Charlotte Bell, both out of the townlands of Ballyveagh More, by agreements dated February 1843.
Cost of borrowing
Mortgage debt or financial obligations arising from borrowing on security of estate lands could also prove to be a very serious drain on available revenue. Through application to James Fletcher, James Annett and Arthur Owen Lord, Colonel Francis Rawdon Chesney borrowed two sums totalling more than £4,637 secured on various townlands in the Barony of West Carberry, County Cork, by deed of mortgage dated October 1854. Repayment of capital and interest are fixed at rate of 5% per annum. An attached memorandum has details of a further loan of £3,000 to Chesney from Robert Cherry Sikes, secured on the same lands.
A Grandiose Lifestyle
A more general reason for financial weakness amongst Irish gentry and aristocracy is connected with aspirations to lifestyle and living standards considered appropriate to their class. Among the items of estate expenditure most frequently noted are modifications to a 'big house' or costly additions to the demesne. To this must be added general estate maintenance and the expense of having a retinue of servants attached to the establishment. Social engagements, such as parties and participation in activities such as horseracing or hunting, while representing substantial financial outlay, were viewed by many as a necessary part of social status. At the same time, adding to a library, collecting works of art, or providing for the education of a younger son, could only be accomplished at considerable cost to the estate.
---
« Previous page - Glimpse of the Past
---
This project is part financed by the European Union through the Interreg IIIA Programme managed for the Special EU Programmes Body by the East Border Region Interreg IIIA Partnership.

---