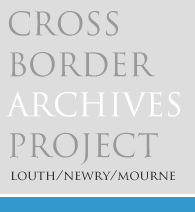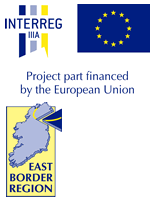 Incumbered Estates Court
The Big House
Image three is a fine sketch of Barkston Lodge, in the townland of Carnmeen, produced by Foster and Company of Dublin. It is an iconic image of the 'big house'. Displaying a confident and majestic outward aura, it is 'planted round with scrubs and evergreens', and boasts 'a well enclosed garden'. The lodge, the catalogue continues:
'contains parlour and drawing-room, 5 bed-rooms, together with servants' apartments, kitchen, pantry, cellar, and larder. It is well situated for a gentleman's residence. There is a splendid suite of stables and offices attached, capable of accommodating 12 horses, well known in the sporting world as the birthplace of the famous racehorse "Harkaway"'.
Exhibition image four is of the front cover of sales catalogue of the estate of Richard Coulter, Parish of Newry, which was placed on the market in 1853 by the Incumbered Estates Court in Ireland. The estate map in image five shows the holding to include the townlands of Carnmeen and Carnbane, comprising over 209 statute acres in counties Down and Armagh. Image six is a sketch showing two fine houses and a bleach mill on the estate. The catalogue describes the houses as:
'two large and excellent dwelling houses on the property, both in good order, and each having extensive and commodious out-offices; also excellent and well stocked gardens and orchards'.
The description continues: 'The Bleach Mill and Machinery, are in excellent order...and are amply supplied with water'. It is added that nearby property 'is in the highest state of cultivation, and has Nineteen neat and convenient Cottages, suitable for Bleachers or Workmen.'
---
Next page - Glimpse of the Past » « Previous page - A Vital Resource
---
This project is part financed by the European Union through the Interreg IIIA Programme managed for the Special EU Programmes Body by the East Border Region Interreg IIIA Partnership.

---