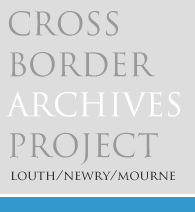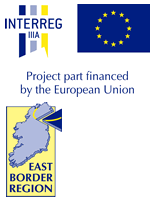 Land Ownership in Newry and Mourne
Lease for Year from Edward Bayley and Robert Nedham to John Murray and Robert Ward, 3rd February 1715
Sir Nicholas Bagenal was granted the estates of the former Cistercian abbey at Newry in 1552, along with lands at Greencastle and Carlingford. He subsequently acquired estates in north Wales through marriage. His great-grandson, also called Nicholas, died in 1712 without a male heir. Under the terms of his will, his estates were divided between his kinsmen, Edward Bayley and Robert Nedham.
Bayley and Nedham were descended from Eleanor and Ann Bagenal, the daughters of Sir Henry Bagenal, son of Sir Nicholas Bagenal. Eleanor married Sir Thomas Needham from Co Derby and Ann became the wife of Lewis Bayley, Bishop of Bangor in north Wales.
In this lease, Edward Bayley and Robert Nedham 'bargain and sell' for one year, their property in the counties of Anglesey, Carnarvon and Denbigh in Wales and their Irish estates in counties Armagh, Down and Louth (including the 'Castle of Newry with the Bawne, orchard and garden') to John Murray and Robert Ward, their executors and administrators.
This lease was probably part of a Lease and Release by which property was transferred by granting a lease for a year, which was then released the following day. This may have been done in order to facilitate division of the estates between Bayley and Nedham. Under the terms of the eventual settlement, Bayley received Nicholas Bagenal's lands in Louth and Wales, and Nedham received the estates in counties Armagh and Down.
The image shows the seals and signatures of Edward Bayley and Robert Nedham.
Estate Map of part of the townland of Ballinacraig owned by William Nedham, 1784
Estate maps were an essential tool in the management and exploitation of landed estates.
In 1784 Samuel Reid prepared a series of maps of land held on the outskirts of Newry by William Nedham, Member of Parliament for Newry (1767-1776).
The map is a typical late 18th /early 19th century estate map. It is a measured survey (scale of original 10 Irish perches to one inch) showing the sub-denominations held by the various tenants. Each piece of land belonging to the same tenant is given the same colour. A reference table provides the names of the tenants along with measurements of their holdings.
The map includes major buildings, roads and topographical features of Ballinacraig, located on the east side of the town of Newry.
---
Next page - Newry 1814, Derryoge 1843 » « Previous page - Continuity and Change
---
This project is part financed by the European Union through the Interreg IIIA Programme managed for the Special EU Programmes Body by the East Border Region Interreg IIIA Partnership.

---