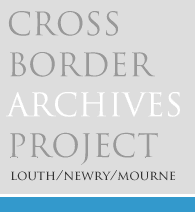 Building Newry & Mourne
Tullyhappy Orange Hall
Tullyhappy Orange Lodge was constituted L.O.L. number 59 by warrant of May 1819 from the Grand Orange Lodge of Ireland.
According to a minute book dated 1919, early lodge meetings took place in a barn located at Keadybeg in Mountnorris, and the Register of Warrants of 1855 records that at this period the lodge met at Kilcarron in the Markethill District.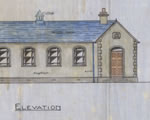 The image on display is of an architectural drawing of the 'Proposed Orange Hall at Tullyhappy, Co. Armagh' by Gerald Wilson Reside, of Newry, County Down, completed in February 1935. Viewed from elevation perspective, this striking design is enhanced by symmetrical arched window and door tops, matching chimney pots set on Bangor blue slates, and a fine central ventilator canopy. Two exterior imprints representing the compass and square and Star of David decorate the front gavels. Light is provided by ten multi-section windows, and access is gained by two neat panel doors, located on the front and south side.
A closer examination of the interior reveals that a pedestal forms the focal point of the main hall, with separate compartments for the kitchen, cloakroom, committee room and vestibule. Quality interior craftsmanship is further displayed through use of elegant timber wall panelling, as shown in Section A-A.
This architectural drawing has been subject to a slight amount of burn damage due to a fire in the office of Gerald Wilson Reside, caused by an electrical fault in the 1950s.
During the early 1930s discussions took place on the question of removing to Bessbrook District, but by vote it was determined to remain in Markethill, County Armagh. Since the existing premises were in a state of disrepair, at a meeting convened during August 1934, lodge members agreed to provide a replacement Orange Hall. A site for the new structure was obtained, subscriptions raised and building commenced on what became know as the W. & D. Cairns Memorial Orange Hall. The new hall was officially opened on 16 October 1937.
---
Next page - Dean Swanzy Memorial » « Previous page - National School, Warrenpoint
---
This project is part financed by the European Union through the Interreg IIIA Programme managed for the Special EU Programmes Body by the East Border Region Interreg IIIA Partnership.

---