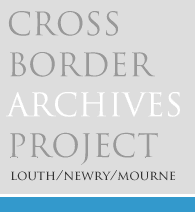 Landowners of County Louth
Family Names
Click on a name below for more detail on the family land, which can be seen on our interactive map (click to open in a new window).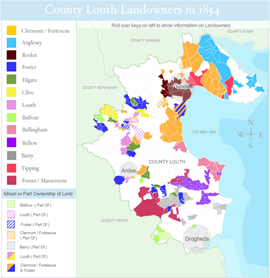 About this exhibition
The Landowners of County Louth exhibition illustrates the general location of some of the larger landed estates in the county, and indicates the extent of the holdings of selected land owners. This part of the exhibition is still under development, and more information about selected County Louth landowners will be added in the future.
About the Landowners Map
The aim of the Landowners Map is to give a general idea of the size and extent of landed estates, using a single source of information. The map was compiled using information in Griffiths Valuation of 1854. For the purposes of this exhibition, ownership of a townland is assigned to a particular landowner if, by the 1854 valuation, they owned more than 75% of the townland. For a more detailed exploration of the landowners and tenants in County Louth, see Griffiths Valuation online at www.askaboutireland.ie
---
---
This project is part financed by the European Union through the Interreg IIIA Programme managed for the Special EU Programmes Body by the East Border Region Interreg IIIA Partnership.

---