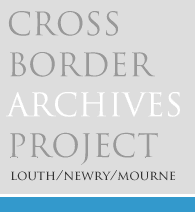 Building Newry & Mourne
Bridewell
A bridewell is a house of correction, or prison. This elevation image shows the bridewell on Kilmorey Street, Newry, County Down, formally old Newry Customs House. It is an interesting structure with a central block and two supporting wings. In the main block, three arched windows on the first floor are reflected through use of complementary arched doorways on the ground level; both wings incorporate four identical windows and matching chimneys. In keeping with its function as a prison, all openings have metal bars.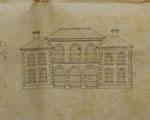 It was converted to a bridewell around 1806, when the new Customs House was erected on Merchants' Quay. The image shown here is included in a lease document from Francis Lord Viscount Kilmorey to Thomas Waring, Trevor Corry and William Needham Thompson (trustees of the Grand Jury of County Down), dated 15 November 1820. The lease states that the ground being conveyed is a tenement, 'formally used as the Custom House and Stores of the Port of Newry', for use as a bridewell at yearly rent of £30 sterling for a period of ninety-nine years.
The building dates from the early 1750s and was constructed as a result of the customs authority moving from Carlingford to Newry in 1726. Further information is provided in another document from the Reside Collection. This deed of agreement, dated 26 July 1750, is from Robert Nedham to John Ponsonby, Robert Trevor, William Bristow, Henry Cavendish, William Champneys, Frederick Frankland and John Bourke, chief commissioners and governors of His Majesty's Revenue in Ireland. In it, Nedham undertakes to 'build and erect or cause to be built and erected at his or their own proper expense a new house for the use of a Custom House in the said town of Newry to be situated as conveniently as may be near the River of Newry for the benefit and advantage of vessels trading to that port', the property to be completed on or before 1 May 1752. It is agreed that the property will be leased to the commissioners for a term of 500 years.
A related document is a copy of release, dated 12 February 1756, from Robert Needham to the merchants and traders and inhabitants of the town of Newry of 'rights to custom house (constructed by Nedham) and quay in town of Newry, County Down for payment of consideration of five shillings by hand of John Scott, Robert Scott, James McCamon, William Ogle and James Moore'.
---
Next page - Map of Newry Baths »
---
This project is part financed by the European Union through the Interreg IIIA Programme managed for the Special EU Programmes Body by the East Border Region Interreg IIIA Partnership.

---