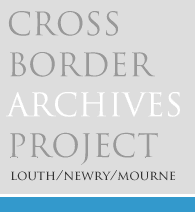 Building Newry & Mourne
Dean Henry Biddall Swanzy
Henry Biddall Swanzy was born on 5 October 1873, the second son of Rev. Thomas Biddall Swanzy, M.A. He graduated B.A. of Trinity College, Dublin, in 1876 and M.A. in 1899.
He was curate of Monaghan 1899-1900, of Newry 1900-1908, rector of Carrowdore, 1908-1910, Omeath 1910-1914, Vicar of Newry 1914-1923, rector of Donaghmore 1922-32, rural dean of Newry and Mourne 1925, St. Patrick's 1926-1931 and Dean of Dromore 1931-1932, which position he held until his death in November 1932. There is a Tablet in the Chancel erected to his memory.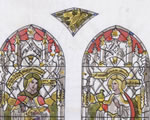 Raised to membership of the Royal Irish Academy in 1919, he was the author of the Succession List of the Diocese of Dromore, as well as various genealogical pamphlets.
Sources:
Samuel Wilson Reside, short pamphlet 'St Mary's Parish Church, Newry' (1933)
Reside Collection Papers
Clergy of Down & Dromore
---
Next page - House at Corgary, Co. Down » « Previous page - St. Mary's Church of Ireland
---
This project is part financed by the European Union through the Interreg IIIA Programme managed for the Special EU Programmes Body by the East Border Region Interreg IIIA Partnership.

---