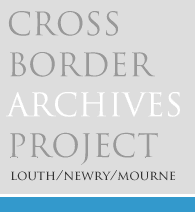 World War II
Local Defences
The Air Raid Precautions Act introduced in 1939 designated areas, usually along the coast line, as special areas. Said areas, which included Dundalk and Drogheda, had to provide a more detailed service than other areas of the country.
In 1939 Frank Aiken was appointed Minister for Co-ordination of Defence Measures. A number of steps were taken in order to re-enforce the defence forces. The army was increased from 19,000 to 42,000. The Local Security Force (LSF) was established in May 1940 and witnessed a rapid expansion in numbers. By August 1940 it had grown to over 148,000 members. In January 1941 this force was re-constituted as the Local Defence Force (LDF) under the control of the army. In conjunction with this the air corps and a marine service were also established.
In Louth a Control Centre was set up in the basement of Dundalk Town Hall, chosen because it had very strong overhead protection, being a 3 foot thick vault under the foyer. Up to 15 telephones were to be manned in the event of an emergency. An air-raid shelter was built under Market House, Dundalk. Air-raid precaution exercises took place in front of the Town Hall. Wardens were equipped with helmet, uniform, gas mask, notebooks and pencils, torches, rubber boots, and anti-gas capes; gas masks were supplied to the Council by the Department of Defence – 10,000 adult masks, 1500 children's masks; and 900 babies' appliances.
Step Together Parades were held in Dundalk on St Patrick's Day where members of the LSF, LDF, Order of Malta, Red Cross, Maritime Inscription, paraded through the streets. The Emmett Band led the Step Together Parades.
As a German invasion of Britain appeared increasingly likely, men were encouraged to join the Local Defence Volunteers (later the Home Guard). Although conscription was not introduced in Northern Ireland, thousands volunteered for military service. They were joined by thousands of volunteers from neutral Eire. The Womens' Voluntary Service (WVS) was established as a support unit for the ARP. Women volunteers could also join the Auxiliary Territorial Service (ATS) and contributed to the war effort by working in factories and on the land.
Two days before War was declared, a blackout order was imposed to restrict lighting to reduce risk of attack from German bombers. Fabric was used to cover windows while car and bicycle lights were screened. Those not maintaining the blackout were fined and there were several such cases at the Newry and Kilkeel Petty Sessions. Air Raid sirens and shelters were situated in Newry, Bessbrook, Kilkeel and Warrenpoint. Air Raid Precaution (ARP) wardens were appointed to ensure blackout was maintained and to advise and direct the population in the event of an aerial attack. There was no blackout in Eire and at night, the southern side of Carlingford Lough remained lit while the northern side was in darkness. This was supposedly to show that the towns in Louth were not part of Northern Ireland.
---
Next page - End of the War » « Previous page - Rationing and Smuggling
---
This project is part financed by the European Union through the Interreg IIIA Programme managed for the Special EU Programmes Body by the East Border Region Interreg IIIA Partnership.

---