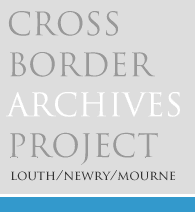 Land Ownership in Newry and Mourne
Map showing denominations in Magheramurphy townland, 1846
This is one of a series of maps surveyed in the 1840s and 1850s of townlands near Kilkeel in county Down. It shows denominations held by tenants and the sizes of each denomination in acres, rood and perches.
There has been a rise in the number of denominations in one townland, due to landlords granting long leases that allow tenants to sublet and subdivide.
In his report on the Kilmorey estates in 1860, Octavius Knox saw great difficulty in reducing the number of denominations and improving agriculture in the area. He attributed this to tenant right or the 'Ulster Custom', which allowed tenants fair rent, fixity of tenure and free sale.
Map of land to be sold in Ballynagholy in County Down by the Irish Land Commission, 1914
A series of Land Acts were passed from 1881 until the Northern Ireland Land Act in 1925. The 1881 Land Act gave rise to the Irish Land Commission, which had the power to purchase estates from landlords and transfer ownership of individual holdings to tenants.
The 1903 Land Act appointed estate commissioners to facilitate the transfer of land ownership to farmers. This was the Commission's main activity until 1921.
Maps, comprising extracts taken from the Ordnance Survey 6 inch County Series, were prepared showing the boundaries of the land to be sold.
This map, dated 3rd April 1914, shows three adjacent plots of land owned by C.A. Staniland to be sold to three of his tenants.
---
Next page - Ballymoyer 1919, Newry 1930s » « Previous page - Newry 1814, Derryoge 1843
---
This project is part financed by the European Union through the Interreg IIIA Programme managed for the Special EU Programmes Body by the East Border Region Interreg IIIA Partnership.

---